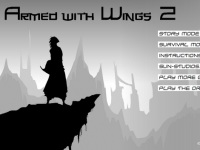 Armed with Wings 2
Download Armed with Wings 2
Penerbit:
Armor Games
Ukuran File:
11.23 MB
Sis. Operasi:
Windows
Syarat:
Adobe Flash Player
Kategori:
Game Aksi,
Game Petualangan
Armed with Wings 2
Deskripsi Lakukan perjalanan melintasi 5 dunia para ksatria untuk merebut kembali tahta yang hilang dan mencari Blades of Eden. Kekuatan destruktif adalah kunci kemampuan anda untuk mengalahkan kaisar baru, Armed with Wings !
Kontrol:
Panah Kiri - Kanan = Bergerak
Panah Atas = Lompat (Tekan lama untuk lompat tinggi)
Z = Pukulan
X = Tendangan
C = Senjata
A = Merebut
S = Projectile
D = Senjata Spesial
Download
Armed with Wings 2
Anda baru saja membaca artikel Situs GAME NETBOOK GRATIS .exe .zip .rar yang berkategori Game Aksi / games / PC Game / Petualangan dengan judul Armed with Wings 2. Anda bisa bookmark halaman ini dengan URL http://netbook-game.blogspot.com/2014/09/armed-with-wings-2.html. Terima kasih!